I feel bad following up yesterday's positive CPR piece with a negative one, but I feel like something needs to be said in a greater forum than just the timeline of my Twitter account.
I spent Wednesday night reading some articles that I had put aside this week, specifically ones related to the paramedics who were allegedly photographed "smiling" at the scene of a motor vehicle accident and what can loosely be referred to as "reporting" by Fox 2 in Detroit.  I would link the original story but Fox 2 has pulled it from circulation without explanation.  I am not going to beat the dead horse of the issue revolving around the picture.  If you want to read some great articles about it check out Dave Statter's page, or see what the Rogue Medic has to say about it.
After reading a few articles and looking over the Twitter feeds of those involved, I decided that I would make a simple attempt to voice my opinion.  I posted the following four tweets and called it a night.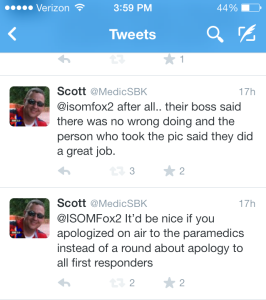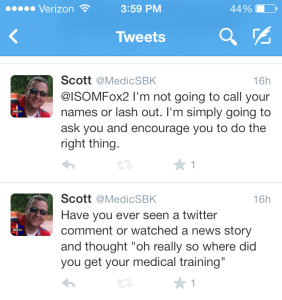 What I woke up to was a reply from Maurielle Lue, one of Andrea Isom's colleagues at Fox 2.  Ms. Lue, who states on her Twitter profile that she is an "Emmy Award Winning reporter" posted the following reply on my timeline: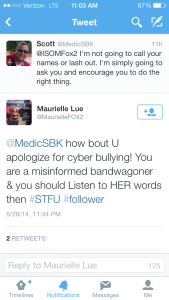 That's right; an Emmy Award Winning reporter told me to "STFU."  While, with that simple statement, she lost all credibility in my eyes, I engaged in a lengthy 140 character at a time discussion with her that ended with her telling me I should contact the station if I was so upset.  I took Ms. Lue's advice and sent the following e-mail to Kevin Roseburger at Fox 2.
Mr. Roseborough,

I am writing you in regards to the story that your station did last week about the paramedics who were thought to be smiling at the scene of a motor vehicle accident.  Last night, I sat down to catch up on a number of EMS related stories that I had bookmarked, your story and Dave Statter's (Statter911.com) thoughts on it being towards the top.  After reading both, as well as some other thoughts from around the web, I posted the following on Twitter:

"@IsomFox2 It'd be nice If you apologized on air to the paramedics instead of a round about apology to all first responders"

"@IsomFox2 after all.. their bosses said there was no wrong doing and the person who took the pic said they did a great job"

"@IsomFox2 I'm not going to call your (sic) names or lash out.  I'm simple going to ask you and encourage you to do the right thing."

Apparently, since the story was posted, there have been a number of people who have come out and attacked Ms. Isom on social media.  I have no time for that and choose not to read it.  In these instances I turn instead to more reputable sites when I read about EMS incidents like the one that your station did a story about.  What I woke up to this morning, however, was a blatant and rude attack by one of your other reporters. Maurielle Lue who's profile claims that she is an "Emmy Award Winning Journalist at Fox 2 News in Detroit" opened her exchange with me by accusing me of "cyberbullying" and telling me "I should listen to HER words then #STFU. . . " if you need me to translate what STFU means, well, I would be happy to do it for you but I choose not to resort to cursing in such exchanges.  I am no stranger to engaging in debates on Twitter, and I welcome them.  I do not expect my followers to agree with everything that I say, and I welcome them to comment both on Twitter as well as in comments on my personal blog.

As someone who is very active in social media, someone who is influential in the EMS Twitter world with over 2,000 followers, and someone who has been an active blogger for over four years, I was rather surprised and taken aback by how an award winning journalist addressed me.  I have written about stories such as this one before, and have spent time on the phone with reporters in relation to the stories that they have posted trying my best to provide them with more information about EMS and what we do. In all of my interactions with the media I have never been subjected to aggressive statements like Ms. Lue's.  To address me in such an obtuse manner quite frankly was insulting.

I also found it ironic how the conversation progressed with Ms. Lue accusing me of making attacks on a person's character and becoming extremely aggressive with her words in a far more bullying manner than I had taken in the tweets I cited above.  Again, as someone who is well versed in social media, a lot can be lost in 140 characters, but Ms. Lue's statements were tweet after tweet and leading off with "STFU" to me seems rather aggressive as she essentially said that while she can say whatever she wants in defense of her colleague's actions however I cannot voice an opinion that I felt that an apology from Ms. Isom was appropriate and stated the reason why I felt it was appropriate.  To sum up her statements, she wanted me to apologize for asking for an apology.

At the recommendation of Ms. Lue, I am writing you today.  While I feel an apology from Ms. Isom is appropriate in this matter, I also feel that Ms. Lue's actions and statements towards myself were extremely unprofessional and a poor representation of your station and I felt that you should be aware of them.  I have followed news in Detroit for quite some time dating back to Charlie Lebuff's early reports on Detroit Fire and have found your station to handle EMS related issues better than most in the past, hence my shock not only to Ms. Isom's story but also to Ms. Lue's statements last night and this morning.

I have taken screen shots of the entire conversation and would gladly share them with you if you like.  Also, you can feel free to check out my Twitter feed yourself, as my Twitter handle is @MedicSBK.  While I do not need a reply from you, I will await one in hopes that I do, in fact, receive one.

Thank you for your time.

Respectfully,

Scott Kier
I would love to share the full Twitter conversation I had with her, and the follow up conversation she had with Dave Statter, but unfortunately, Ms. Lue deleted every Tweet that she sent to either of us.  I have it saved in screen shots, but reposting it would not accomplish much more than I did by posting the above letter.
Don't misconstrue my intentions with posting all of this.  I am not claiming to be a victim of anything, in fact I fully admit that at times I will skirt the edge of appropriate comedy when it comes to what I post on Twitter.  I do, however, feel that having the right to voice my opinion on social media is something that is very important.  If you follow me on Twitter, or just know me outside of social media all together you probably have realized that I do just that, sometimes to exhaustion.   While some of my opinions are not always popular ones, I own them, and I invite anyone to share theirs whether they agree or disagree with me.  I am very proud to say that other than the occasional Malware laced pingback, I have never deleted a comment or banned a single person in the four years that I have had my blog.  I have also never deleted a story that I posted on this blog, and I never will.
It is disappointing that an Emmy Award Winner who is supposed to be a "professional" took the road that she did.  I know that Ms. Lue probably feels like she saved some face by deleting our interaction, but unfortunately for her, ridding yourself of unprofessional behavior is not just the stroke of a keyboard away.  Just like pulling a story and issuing a backhanded apology did not help Ms. Isom's cause.
I am also extremely disappointed in the quality of reporting that I have seen from Fox 2 in Detroit, especially on the heels of how tenaciously they stood up for the field providers of Detroit EMS a few years ago.  Hopefully they are able to rein in their reporters, issue some appropriate apologies, and clean the egg off of their collective faces.
If you would like to contact Fox 2 in Detroit in a professional manner, head over to Dave Statter's article where you will find all of the contact information that you need.